Read for the Record
October 19, 2017 @ 3:00 pm

-

5:00 pm
Event Navigation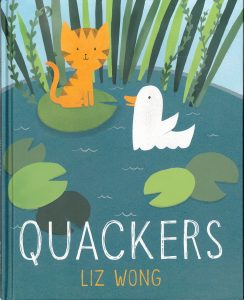 Join us on Thursday, October 19 from 3 PM – 5 PM for fun, friends, and books!
We'll be reading, "Quackers" by Liz Wong. This delightful story follows a kitten who grows up believing he's a duck, until the days he meets another kitten. What follows is a sweet tale about understanding, acceptance, and learning it's ok to be whoever you want to be.
About Read for the Record:
Each year on Read for the Record Day, people gather in classrooms, libraries, community centers, and homes across the U.S. to read our chosen Read for the Record book to children in the community. Read for the Record is the world's largest shared reading experience—bringing together over 2 million people to read the same book on the same day.
This annual campaign was launched over a decade ago to bring national attention to inequities in early childhood education and as a way to inspire adults to read with children, spur policymakers and organizations to take action towards transformative change in early education, and put books in the hands of more children across the country. Since 2006, Read for the Record has grown into a global effort, collectively engaging over 19 million children and adults worldwide.
Here is a link to the Jumpstart Read for the Record website:https://www.jstart.org/read-for-the-record/